Osfest music festival postponed 'at short notice'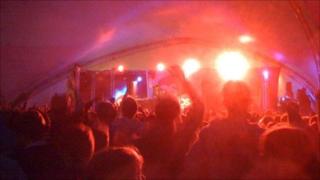 Music festival organisers have announced the Osfest music event has been postponed until August, following poor ticket sales.
The event in Oswestry will now take place on 9 and 10 August, a spokeswoman said.
Osfest apologised for the change "at short notice".
Wiley and Union J are among the acts signed up for the festival, which started in 2009 and sold a record 5,000 tickets in 2013.
Osfest said that when it started it was one of "very few festivals" on the May bank holiday weekend, but more recently other festivals had moved to that weekend and it had become "progressively more difficult to book acts".
Managing director Mike Scott said: "We are now looking for additional acts for the August dates to add to our line-up that is unaffected, other than for Wilkinson who unfortunately cannot appear.
"It is also GCSE and University exam time and with a good percentage of our audience being from this age group, we feel that moving to the early part of the Summer holidays will take away difficult decisions for them."
Osfest said new tickets with the correct dates would be issued, but is asking people who have bought a ticket through a ticket agent to contact the festival via the website to arrange for a new one.