Shrewsbury Sixth Form College teachers go on strike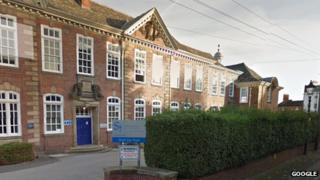 Teachers have started a two-day strike at a sixth form college in Shropshire over a staff restructuring plan.
The NASUWT said its members at Shrewsbury Sixth Form College had "serious concerns" the proposals would result in "excessive workloads".
The union, which is taking action alongside the NUT, said the "quality of education provision" may be affected.
The college said the restructuring was "a difficult decision" but governors felt it was "the best option".
NASUWT general secretary Chris Keates said teachers on strike on Wednesday and Thursday had been left "with no choice".
She said: "Restructuring which is carried out without proper consultation and which is driven by budgetary considerations, resulting in excessive workload and adverse impact on the recruitment and retention of staff, is not in the best interests of either the young people at the college or its staff."
Maintain standards
The union said the heads of faculties were being downgraded to lower pay grades and more teachers would be asked to take on management tasks.
It also said some teachers would experience a pay cut.
The college said 62 of it's 88 staff were on strike, meaning around two-thirds of lessons have been affected.
College principal Martin Ward said it was in the process of implementing a new "affordable and sustainable curriculum management structure" which retained the current number of teachers but reduced the number of staff on management allowances.
The college said if had to save £110,000 from its yearly budget.
Mr Ward added: "The implementation of the new curriculum structure follows a period of 30 days of consultation with staff and professional associations.
"Governors and the leadership team are convinced that the new structure can meet the financial demands and maintain our high standards and improve consistency of results for students.
"By addressing the financial cuts in this way, there is no reduction in teacher numbers, no need to increase the number of classes for full-time teachers, nor any need to increase class sizes."