Royal and Mercian Lancastrian Yeomanry march in Shrewsbury parade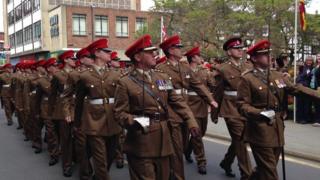 More than 200 soldiers have marched through Shrewsbury for the last time before their regiment is disbanded.
The Royal Mercian and Lancastrian Yeomanry (RMLY) is being wound up as part of a national reorganisation of the armed forces.
The regiments link with Shropshire goes back to 1795 when the county's Yeomanry Squadron was formed.
The RMLY's headquarters in Telford is being relocated to Edinburgh, but it will keep a squadron in the town.
The government announced the disbandment of the RMLY in 2013, with the regiment handing over command of its squadrons to the Royal Yeomanry, Queen's Own Yeomanry and 6th Battalion The Rifles.
Lt Col Matthew Botsford said: "We're very sad to be losing our cap badge but we should focus on the fact that our squadrons are staying where they are and are getting new investment and new kit.
"It means a lot to us to have the people of Shropshire come out and say not goodbye as such, but farewell to arms."