War poet's original draft on show at a post exhibition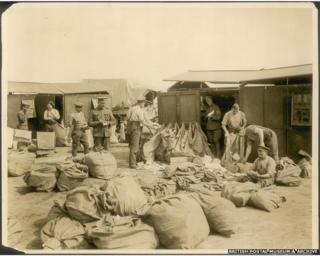 An original manuscript by Wilfred Owen of the World War One poem Dulce et Decorum Est is on display at the Ironbridge Gorge Museum in Shropshire.
It was loaned to the museum by the British Library and forms part of a wider exhibition about the postal service in the war.
The display's themes are communication between the front line and the home front, and the life of postal workers during the conflict.
The exhibition is open every weekday.
The director of the British Postal Museum and Archive, Dr Adrian Steel, said the centenary of World War One was an opportunity to reflect on the impact of the conflict.
"Few organisations had a greater role to play, or a greater impact, over the five years of hostilities than the British postal service," he added.
Owen's handwritten draft shows revisions he made to his poem to make it more accessible to the public, said senior curator of Ironbridge Gorge Museum, Dr Matt Thompson.
One of the alterations is the exchange of "behind the limber" to "behind the wagon", Dr Thompson added.
"What the manuscripts show is the process of creating what is probably one of the most important and most powerful war poems in the English language."
In one of the most famous poems to come out of WW1, Owen ends it by writing:
If you could hear, at every jolt, the blood
Come gargling from the froth-corrupted lungs,
Obscene as cancer, bitter as the cud
Of vile, incurable sores on innocent tongues,
My friend, you would not tell with such high zest
To children ardent for some desperate glory,
The old Lie; Dulce et Decorum est
Pro patria mori.
The work is one of two of Owen's original manuscripts on show, the other being The Letter, which is written in the form of a letter home.
Wilfred Owen was born in Oswestry, Shropshire, before his family moved to Birkenhead and then settled in Shrewsbury, where he was educated.