Danny Jones sword killing: Richard Reece loses sentence appeal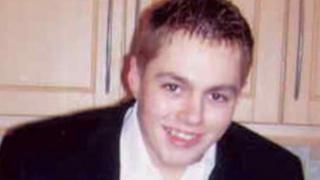 A man who killed his friend with an ornamental sword during a fight in a car park has lost an appeal to get his 12-year prison sentence reduced.
Danny Jones, 21, died after being stabbed by Richard Reece, 19, during a night out in Oswestry, last April.
Reece, from Lord Street in Oswestry, was found guilty of manslaughter at Birmingham Crown Court in November.
The Court of Appeal rejected submissions by Reece's lawyers that his sentence was too long.
Mr Jones, from Chirk near Wrexham, was stabbed by Reece with a 30cm blade in the Oak Street car park in Oswestry.
The Crown Prosecution Service said the weapon was a replica short sword from the Lord of the Rings films.
Mr Jones died in hospital, while undergoing emergency surgery.
Reece was acquitted of murder but found guilty of manslaughter after a three-week trial in Birmingham.