Gareth Utting: Tributes to heart attack teacher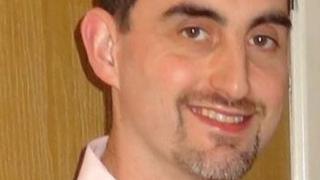 Tributes have been paid to an English teacher who has died of a heart attack, aged 37.
Father-of-three Gareth Utting worked at Thomas Adams School in Wem, Shropshire, for 10 years.
He was a Beaver Scout leader in the village of St Martin's and martial arts instructor.
Speaking from the family home in Ellesmere, his wife Alison, who also worked at the school, said he was a wonderful father and husband.
'Heart on sleeve'
"He was very modest and would have been bowled over by all the kind messages we have received," she said.
"He never believed he was that good a teacher. He was immensely kind and generous.
"He wore his heart on his sleeve."
A post on the school website said students and staff would be left with fond memories of Mr Utting.
"Our thoughts and prayers are with them [the family] at this time," it said.
Tributes have also been left on Twitter. One pupil said: "Mr Utting was probably the nicest teacher I had by a mile. RIP!"
Another message said: "So sad that someone can be taken away so quickly and unexpectedly. RIP Mr Utting, you were a wonderful man."
Another user said: "RIP Mr Utting taken so young I know everyone will miss you so much."