Shrewsbury Flax Mill restoration to be revised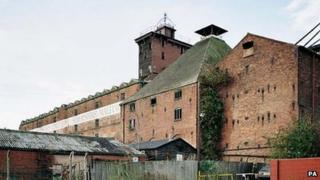 Work to restore a historic flax mill will need to be revised to meet rising costs, English Heritage has warned.
Ditherington Flax Mill in Shrewsbury is due to be restored and turned into a mixture of community and business use.
The project was awarded a £12.8m lottery grant last year, as well as £6.6m in European funding.
The European funding is dependent on the project being completed by December 2015 and English Heritage said the deadline was looking "tight".
Preparation work started in October and the redevelopment of several listed buildings, dating back to 1797, was due to start in earlier this year.
Work, however, came to a temporary halt as tenders came in.
John Yates, historic building inspector for English Heritage, which is leading the project, said it was in part suffering due to the rising cost of steel.
"It's partly because costs have gone up and partly because of the complexity of the project," he said.
"So far we're revising our costs, we're reviewing what we're going to do, we're possibly revising to an extent how much we're going to do inside it."
The site includes several listed buildings, including the main Grade I listed mill, the world's first iron-framed building, which Mr Yates described as "the great grandfather of every skyscraper in every world city".
English Heritage said an investigation of the mill had revealed a number of "serious defects", partly because of the experimental use of iron in its construction.