Shrewsbury plan for 175 homes expected to be approved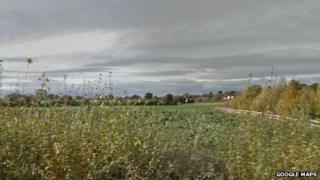 Plans for a development of up to 175 homes in Shrewsbury were due to be approved on Thursday.
The scheme between Mousecroft Lane and Longden Road was originally for up to 200 homes.
But Wyro Developments Ltd revised its application after concerns were raised about increased traffic congestion and fewer school places.
A report recommending approval by Shropshire Council said a significant traffic increase was improbable.
'Still concerned'
"We have given further consideration to the potential for increased traffic movements along Stanley Lane and therefore Meole Village and the local highway authority maintain the opinion that a notable increase in vehicle movements along this route as a result of this development is unlikely," the report said.
"Due to the narrow, rural nature of this (Mousecroft) lane it will not be attractive for a significant increase in vehicle movements and will self regulate."
In the amended proposals, a mini island off Longden Road replaces a t-junction.
Councillor Roger Evans, of Longden ward, said he was still concerned by the potential for increased traffic.
"The roundabout will not stop large numbers of vehicles using roads in the area," he said.
"The real issues still haven't been taken into account. I hope members will when they consider this."