Scheme to save 'leaky' John Nash roof in Shropshire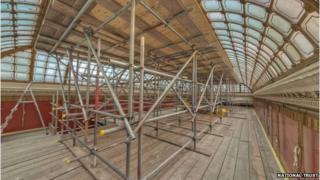 A £1.4m project has begun to preserve the work of one of Britain's best-known Regency architects.
John Nash, who designed Buckingham Palace, was the man behind the picture gallery at Attingham Park near Shrewsbury in Shropshire, which has a cast iron and glass roof.
The National Trust, which owns the property, said the roof has been "leaky" since its construction.
However, the trust said its repairs should preserve it for 200 years.
'Special architecture'
The scheme will see Nash's roof, which dates from around 1807, repaired, while a secondary roof, built to protect it in the 1970s will be replaced.
The trust said this would help protect the rooms below in the Grade I listed manor.
"The new roof will mean the survival of Nash's innovative picture gallery and staircase design for the next 200 years," said Helen Royall, the mansion engagement and conservation manager.
"We are conserving the paintwork, reinstating gilding and cleaning the historic glass [of the original roof]."
The trust said it was starting to lower the steel frame of the secondary roof into place this weekend.
"It is being lifted in using a crane on the east side of the mansion," said Ms Royall.
"The steel being lifted weighs eight tonnes and, in total, the new roof will weigh 20 tonnes."
She added it was planned the glass would be installed in July.