Closure of Shrewsbury Prison 'will not save money' says ex-boss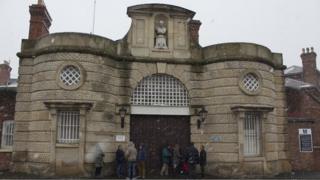 Closing HMP Shrewsbury was a mistake which will not save taxpayers money, its former governor has said.
The jail, which closed in March 2013, was also known as the Dana and was one of seven prisons shut by the Ministry of Justice (MoJ) in a bid to cut costs.
At the time, it said the reorganisation would save £63m a year and the closures "were not a reflection of performance".
Gerry Hendry who ran the prison for eight years, said he "disagreed totally" with the decision.
The 136-year-old jail, which is Grade II listed, is currently for sale.
'Proven track record'
"I'm frustrated as to why people actually thought this would save the public purse money, because the Dana is still sitting there, it still has to be maintained.
"I don't think people did their sums properly," said Mr Hendry.
He said the Ministry of Justice's own annual report showed private sector-run prisons were £7,000 more expensive per place than HMP Shrewsbury had been.
But the MoJ has claimed the costs of private and state prisons were not comparable because of "differences in accounting and scope".
A Prison Service spokesman said: "The decision [to close Shrewsbury prison] is part of our plan to reduce the cost of prison to taxpayers by replacing older prisons with newer, more efficient accommodation at a much lower cost."
He added that the closure was not a reflection on the hard work and commitment of staff working at the prison.
Mr Hendry said he could not understand the MoJ's decision because his prison had a "proven track record in restorative justice" and held a level 4 rating, which recognises exceptional performance.
"Quality not quantity is what matters. What we actually do in prisons is what matters not how much it costs."
The former governor had been unable to air his views sooner because of contractual obligations to the MoJ.