Threat of 190 job losses at Shropshire potato plant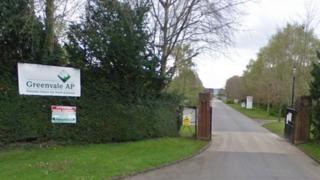 One-hundred and ninety jobs could be lost under proposals to close a potato packing plant in Shropshire.
Greenvale plans to end operations in Tern Hill, near Market Drayton, and transfer work to sites in Scotland and Cambridgeshire.
It said operating three packing sites was "no longer sustainable".
A 45-day consultation period with employees is under way and a final decision will be made on 12 May, the company said.
Greenvale, one of the UK's biggest potato suppliers, began operations in Tern Hill in 1978. The proposed jobs losses would represent the entire workforce at the plant.
Growers 'unaffected'
The company said about 50 posts would be created in Scotland and Cambridgeshire and it would "actively support the transfer" of Tern Hill employees to those sites.
It said the Warrant Road site would have required "significantly" more investment than the others due to its age.
"We regret any potential redundancies and will do all we can to look after the people affected," chief executive Angus Armstrong said.
Greenvale said no growers would be impacted by the closure of the site and the company's Swancote processing plant in Telford would not be affected.
The National Farmers' Union said it would be on hand to speak to farmers concerned by the announcement.
"The loss of a major player in the potato market is significant for Shropshire and for local employment.
"We have sympathy with those who may lose their jobs and we wait to see further details as to how the closure will impact on West Midlands farmers," he said.
If the proposed closure goes ahead, production will cease in August, Greenvale said.