Clun Bridge closure after lorry crash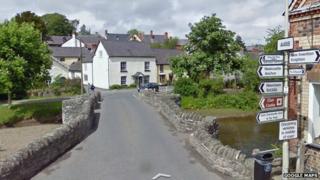 A bridge is to be closed to traffic for up to three weeks for repairs after a lorry crashed into it.
Work at Clun Bridge in Clun, Shropshire, will include rebuilding a 10m length of a parapet wall, which was heavily damaged this month.
Shropshire Council said because the bridge, which carries the A488 over the River Clun, is narrow it was necessary to close it to carry out repairs.
Pedestrians and dismounted cyclists are still able to use the bridge.
Claire Wild, the council's cabinet member responsible for bridge maintenance, said it was appreciated the bridge closure from Monday would "cause some inconvenience" and everyone involved in the work would do all they could to reopen it "as soon as possible".
She said: "Weather permitting, the contractor will be working on the repair seven days a week."