Bridgnorth Aluminium £41m expansion to create new jobs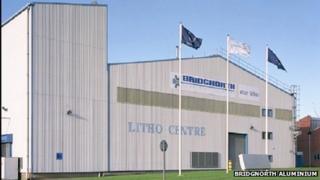 A £41m investment to expand an aluminium plant in Shropshire will create 65 news jobs, the company said.
Bridgnorth Aluminium will extend its lithosheet rolling mill and finishing line, with new machines coming into operation by the end of 2015.
The company will also build a new research and development laboratory, which will open in May.
The investment would more than double the plant's capacity to about 75,000 tonnes per year, the company said.
The plant, which currently employs about 300 people, makes coiled aluminium for the food, pharmaceutical and graphics industries.
Thirty-five new jobs have already been created at the Stourbridge Road site in the past year.
"More than £100m has come into Bridgnorth in terms of investment since 2001 and we've steadily built the company up," managing director Simon MacVicker said.
The company is majority-owned by the Greece-based Elval S.A.