Flax Mill project is moving forward, says English Heritage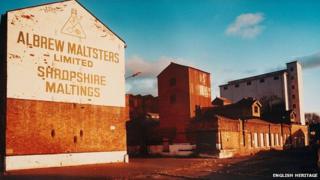 A project to redevelop a historical flax mill is "moving forward" despite delays, the groups behind the work have said.
The Ditherington Flax Mill in Shrewsbury was awarded a £12.8m lottery grant in 2013, as well as £6.6m in European funding.
Work to redevelop the site was due to start early this year.
However, a number of delays has led to English Heritage taking over leadership of the project from Shropshire Council.
'A star building'
English Heritage bought the derelict buildings in 2005.
Its plans include turning the main Grade-I listed mill building into offices and exhibition space.
The organisation said it had appointed one of its senior managers, Tim Johnston, to run the project for 12 months.
Mr Johnston said the building was one of English Heritage's "top priorities" in the West Midlands and he was keen to secure a long-term future for the site.
Alan Mosley, chairman of the Friends of the Flaxmill Maltings, said he was "greatly reassured" English Heritage was moving forward with the project.
The group has had to make two members of staff redundant because the delays in the project meant it was no longer able to access Heritage Lottery funding.
However, Mr Mosley said: "We are highly confident a regeneration and restoration project will be in place soon.
"It's clearly a star building. It was the world's first cast-iron framed building and is the forerunner of the modern skyscraper.
"We would like it to be a main feature of Shrewsbury for the next 100 years."