Shropshire schools set for £8.9m extra funding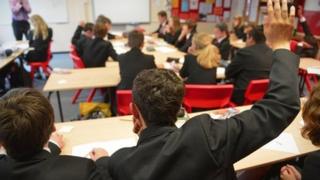 Schools in Shropshire are set to receive an extra £8.9m of funding from 2015-16, under government plans.
It is part of a £350m funding package announced by Schools Minister David Laws in the House of Commons.
The move means schools in the county, traditionally one of the poorest-funded in England, would receive an extra £256 per pupil.
Shropshire Council said it was a major step forward after more than a decade of lobbying.
The plans, which include minimum funding levels, now go out to consultation.
Councillor Ann Hartley, responsible for education, said: "I can't tell you how long we have been campaigning to be recognised for the extra stresses we get on our budget as a result of our rural authority.
"All the weighting was towards the urban authorities, who are massively funded compared with us."
It means current funding of £4,112 per pupil will rise to £4,368 for 2015-16 - still only about half of what some authorities receive.
'Unfair and inefficient'
Telford is set to see its funding rise by £52 per pupil.
Mr Laws said the extra funding was the first step in addressing the "unfair and inefficient allocation of funding that stops us from making sure all children get the best possible teaching".
Speaking in the House of Commons, he highlighted a school in Shropshire with almost a third of pupils receiving free school meals that had received less funding per pupil than one in Birmingham with just 3% of pupils receiving free school meals.
Philip Dunne, Conservative MP for Ludlow, described the current funding system as a "postcode lottery".
He said the announcement was a "huge step towards removing the unfairness in the school funding system".
Labour, however, attacked the plans, saying it was not clear where the extra money would come from.