'No plans to move' court from Shropshire Council building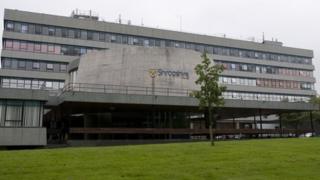 There are no plans to move a crown court from a council building which may be sold, according to the courts service.
Shropshire Council said it would consider selling Shirehall to help save £80m over the next three years.
The authority said it would be "remiss" of it not to consider all options for its estate, but it is bound by a lease with the court until 2016.
The courts service said it had "no current plans" to relocate the court.
'New ways'
A spokesperson added: "HM Courts & Tribunals Service will continue to review the estate to ensure it meets operational requirements.
"Any new proposals to close courts beyond those already announced would be subject to consultation."
Keith Barrow, leader of the Conservative-run authority, said it was considering the future use of all of its buildings "as part of our ongoing work to make the council as efficient and cost-effective as possible".
He said the sale of any of its buildings, and savings from running and maintenance costs, "gives us the opportunity to invest in new ways of delivering and offering access to our services".
Mr Barrow said: "It would frankly be remiss of us not to look at rationalising the council's estate and assets.
"Saying that, we're mindful that we have a lease with the Crown Court [in Shrewsbury] until 2016, and we're currently discussing this with the Ministry of Justice."