Plane crash near Halfpenny Green 'caused by wrong lever'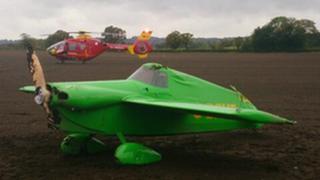 An incorrect lever being pulled was probably behind a plane crash in a field, a report has concluded.
The Cassutt Racer came down near Halfpenny Green, on the Staffordshire / Shropshire border, in October.
It hit the ground nose-first and flipped over, causing damage to the fin and propeller but no-one was injured.
An Air Accident Investigation Branch report said the pilot may have accidentally pulled a lever which stops fuel getting to the engine.
"The pilot is of the opinion that he may have inadvertently pulled the mixture lever [used to isolate the fuel when the engine is off] instead of the carburettor heat [which stops ice forming in the engine]," it said.
The 65-year-old pilot was the only person inside the plane.
A firefighter said at the time of the crash the pilot had brought it down to avoid hitting houses at the nearby village of Bobbington.