MoD Donnington base expansion plans approved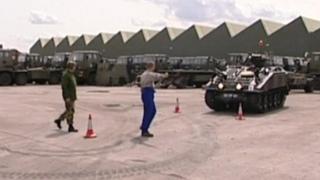 Plans for a major expansion of a Ministry of Defence (MoD) base in Shropshire have been approved.
The enlargement of MoD Donnington was approved by Telford & Wrekin Council's planning committee on Wednesday night.
Donnington provides logistics support for the Army, handling military equipment and weapons.
The council is in talks to persuade the MoD to base its logistics operation there, which could create 450 new jobs and protect a further 750.
Councillor Bill McClements said: "We know there are absolutely no guarantees of success but the potential rewards for the borough are huge."
The MoD decision on where to base its logistics operation is likely to be later this year.