Shrewsbury weir electricity plans get £19k new funding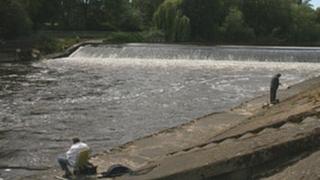 A group hoping to generate electricity from the River Severn has been awarded £19,000 to carry out further research.
Community-based Shrewsbury Hydro was awarded the grant from the government's Rural Community Energy Fund.
It will be used to analyse the environmental impact of a possible hydro scheme on the Castlefields weir.
The group claims it could be completed by 2016 and would be funded by selling community shares.
Flood impact
Mark Scutt, from Shrewsbury Hydro said the latest funding would be used to check what impact a turbine might have on local wildlife, particularly fish, and on the river bed itself.
It will also be used to model what, if any, impact the scheme might have on flooding in the town.
Mr Scutt said the research, expected to be completed by June, would then be used to put together detailed designs and help decide whether the scheme is financially feasible.
Shrewsbury Hydro's plans, which involve feeding electricity into the national grid, have already attracted considerable funding.
In 2012, it was awarded £42,725 from the government's Local Energy Assessment Fund.
The project also won a public vote to secure £15,000 from the Energyshare Fund in 2011, which it spent on other environmental surveys, as well as £30,000 from Advantage West Midlands.