Impaled Shropshire farmer 'lucky' to survive accident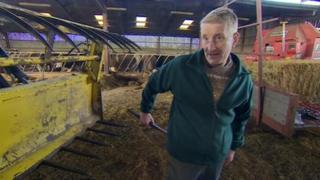 A farmer who survived being impaled by an 18-inch-long metal tractor spike says he feels "lucky" to have escaped serious injury.
Graham Heatley, 52, was speared by a baling prong at his Shropshire farm on 13 February.
It went straight through his body but missed all his major organs.
Firefighters had to unbolt the inch-wide metal spike to free him, and he was airlifted to hospital with it still in his body.
"If they'd pulled it out I could have bled to death," he said.
He spent six days in hospital before being released, and is now recovering at home in Lyneal, near Ellesmere.
The accident happened while Mr Heatley was cutting the plastic on a hay bale. He had left the tractor's engine running but did not put the handbrake on "quite tight enough", he said.
"All of a sudden I just felt something against my backside... I started to turn around and realised the tractor had started moving forwards.
"I realised it was half against me and there was nothing I could do about it, so I just had to stand there and let it go straight through me," he said.
The spike entered his body through his right buttock, he said, and came out on the left side of his abdomen, pinning him to the bale.
"I was here on my own - I thought the only thing I can do is shout and hope someone will hear me."
His neighbour, Henry Rook, heard him shouting and called the emergency services.
Shropshire Fire and Rescue Service could not cut the spike as it was too thick, opting instead to unbolt it.
Incident commander John Deakin said: "When we initially turned the nut it did start turning the spike in Graham, and he soon let us know that was happening, but we managed to clamp it at the back of him and eventually freed it.
"In 30 years I've never experienced anything like that," Mr Deakin said.