Knighton crash: Cottage living room 'demolished' by car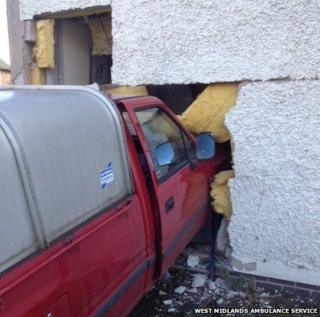 A husband and wife were "miraculously unhurt" when their car crashed into a cottage near Market Drayton.
The living room of the house in London Road, Knighton was "demolished" and sustained "extensive" property damage, West Midlands Ambulance Service said.
Emergency crews were called at 14:30 GMT and arrived to find the car protruding from an exterior wall.
Paramedic area support officer Kevin Errington said it was "lucky" no-one was in the living room at the time.
The couple, thought to be in their 60s, were out of the car when emergency services arrived.
An ambulance service spokeswoman said the man and woman were "understandably shaken".
She added the fire service had removed the vehicle and arranged for a structural engineer to assess the damage.