Plans are revived for Shrewsbury-London service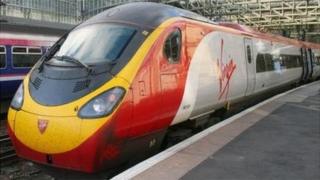 Plans have been revived for a direct rail service between Shrewsbury and London, an MP has said.
Virgin Trains was due to introduce a service to Euston from May - but in January said the proposals were not economically viable.
Daniel Kawczynski, Conservative MP for Shrewsbury, said a new plan to run two daily trains to and from London, had been agreed with the company.
Virgin said it would not comment "at this stage".
'Benefit Shropshire residents'
Mr Kawczynski added the details still had to be approved by the Office for Rail Regulation (ORR).
Under the latest scheme, planned to start in December, the first train would leave Shrewsbury at 06:39 GMT and the last would leave Euston at 18:23 GMT.
Mr Kawczynski said he was "confident" the ORR would approve the plans.
Telford's Labour MP David Wright said: "This isn't just about people going to London. It's about getting people out of London and up to Shropshire."
A Virgin Trains representative confirmed the discussions had taken place and said it was working to "create a service to benefit Shropshire residents".