World War One trench tourist attraction is planned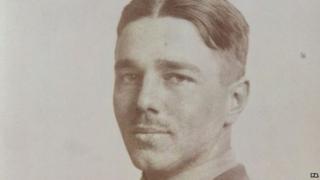 A £15,000 tourist attraction which will allow visitors to walk through replica World War One trenches is being planned for Shropshire.
The Trenches through the Ages centre will open at the Park Hall Countryside Experience, near Oswestry, in August.
Park Hall was the site of one of the largest training camps in the country, which was built in 1915.
Huge numbers of soldiers, including poet Wilfred Owen, spent time at the camp on their way to the front.
'Machine gun posts'
Funding for the project, which will also include replica trench systems from World War Two and modern conflicts, such as Iraq and Afghanistan, has been agreed by Shropshire Council.
Mark Hignett, of Oswestry Museum, who is helping to lead the project, said: "We are trying to include everything you could have come across in the trenches. The main trench will be 150 feet (45 metres) long and the idea is to show what we have learned from 100 years of trench warfare.
"People will be able to explore front-line trenches, with machine gun posts, to the basic shelters men used to cut into banks."
Richard Powell, a director at Park Hall, said he hoped the free attraction would appeal to schools.
"There are lots of children who visit Park Hall anyway, so it will be a good opportunity for them to learn about the war," he said. "We are hoping work will start on the project over the next few weeks."