Parents of murdered teenager say trust has helped them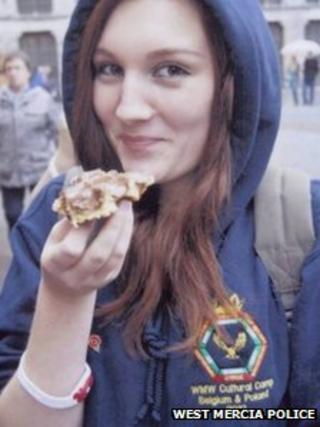 The parents of a murdered teenager have said the trust set up in her memory has kept them going.
The Georgia Williams Trust was set up by the family and friends of 17-year-old Georgia Williams, who was killed in Wellington, Shropshire, in May.
It has already raised more than £40,000 for activities for young people and has just started handing out grants.
Georgia's parents, Steve and Lynette, said they were grateful for everyone's support.
Mrs Williams said the efforts of fundraisers had helped them get out of the house where they had become "cocooned".
'Made a difference'
"Our home had become a prison," said Mr Williams. "People encouraging us to go out and support the Georgia Trust and show our appreciation has made a difference."
Three students from Telford have already received grants to work in remote villages in Morocco thanks to the Trust.
And there are a number of fundraising events in the pipeline including a walk organised by a worker at AFC Telford United, where Georgia did volunteer work.
Trust chairman Richard Langton said they were delighted to have achieved £40,000, adding: "If you had told me we would ever have reached that kind of figure I would never have believed you."
Jamie Reynolds was given a whole life term in December for Georgia's murder.
Stafford Crown Court heard how the 23-year-old, who had a "morbid fascination" with depictions of extreme violence, killed her his parents' house.