Ironbridge flood barriers to be partially dismantled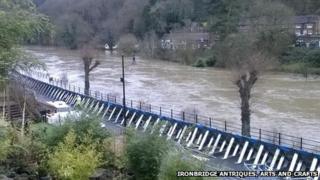 A section of the flood barriers in Ironbridge has been removed, the Environment Agency has confirmed.
Flood defences between Dale End and New Road were dismantled on Tuesday with more expected to come down on Thursday.
With more rain forecast and the River Severn still high, barriers will remain around The Wharfage, a Telford and Wrekin Council spokesman said.
Levels peaked on Monday evening but an Environment Agency flood warning is currently still in operation.
Some parts of Ironbridge have not been protected by the barriers.
Leo Fisher, owner of the Firs Riverside Bed and Breakfast, said he still had "a few feet" of water in his cellar.
He said while flood barriers had worked for the areas protected by them, a longer term approach was needed.
"What we could do with is for them to dredge the river," he said.
"The general management of the river, not just after floods, that's the answer to a lot of these problems."
Elsewhere in Shropshire the agency has lifted a flood warning for Shrewsbury, where river levels were starting to fall.
Barriers were dismantled between the river and the Guildhall in the Frankwell area of the town on Monday.
Berwick Road, Victoria Ave and Old Coleham have all been reopened, Shropshire Council said.
In the Bridgnorth area there were reports of a landslip closing a road, with other roads being closed due to flooding, the council said.