Shropshire winds leave thousands without electricity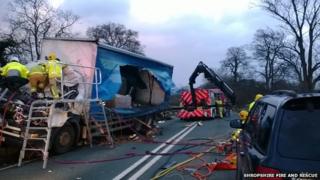 Thousands of people in Shropshire have been left without electricity after trees brought down power lines.
Scottish Power said almost 8,000 people were affected around Oswestry.
Western Power Distribution said about 1,000 were without supplies in Telford, Snedshill, Market Drayton, Newport, Shrewsbury and Bishop's Castle.
A series of small underground explosions were caused by a fractured power cable in Chester Street, Shrewsbury, the fire service said.
Specialist electricians had to be brought in to isolate the power. Several properties were evacuated as a precaution.
Clearing up is continuing after Wednesday night's heavy rain and strong winds blocked roads and damaged property.
Some of Shropshire's busiest roads were affected including the A41, the A5, the old A5, the A49 and the A458.
'Completely crushed'
Dozens of trees and power lines were brought down.
Shropshire Fire and Rescue was called to Atcham on Wednesday afternoon after reports of an HGV trapped by a tree while in "precarious position" near to the parapet of the bridge.
Crews took two hours to rescue the driver, who was treated for injuries, described as not life-threatening, despite the cab being "completely crushed". The lorry also had to be stabilised to prevent it falling into the river.
Walford College said its collection of exotic animals had been put in danger after heating lamps were put out of action after a power cut.
Two generators have now been installed and the college said its collection of snakes, bearded dragons and tropical fish were now safe.
On Wednesday strong winds pulled the roof off a council training centre in Whitchurch, with the debris landing in a nearby car park. Four cars were damaged, but there were no reports of injuries.
Levels on the River Severn are continuing to drop across the county, although further heavy rain and possible gales are expected on Friday.
In Ironbridge, the Wharfage and Church Hill are still closed to traffic as flood defences remain up.
Buildwas Road is expected to reopened later, Telford and Wrekin Council said, while Dale Road and The Lloyds have reopened.
The local authority said it had deployed 2000 sandbags over the past 24 hours, including to six properties on the south side of the river which have been flooded.
Houses flooded
A total of 45 properties in The Wharfage and Court Drive, in Coalbrookdale, remain at risk from flooding, the council said.
Ironbridge Antique Arts and Crafts reopened after enlisting volunteers to remove stock when it was threatened by floods on Tuesday.
Overnight, The Met Office monitored gusts of up to 76mph at Shawbury and 81mph at Lake Vyrnwy.
The Severndale and Wilfred Owen schools' campus in Shrewsbury is closed on Thursday after part of a roof was blown off.
Several other schools in the county are also shut, including the Mount Gilbert School, which is without power and heating.
Several minor roads are also flooded.