Flood barriers in Ironbridge extended as river levels rise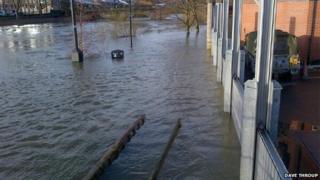 Flood defences have been extended in Ironbridge, as water levels on the River Severn rise across Shropshire.
The Environment Agency has issued five flood warnings for the Severn through Shrewsbury and at Ironbridge, Bridgnorth, Hampton Loade and Quatford.
It said river levels in Shrewsbury had peaked at about 4m (13ft) but would stay high until Monday.
The Met Office has issued a yellow weather warning for heavy rain expected on Saturday and Sunday.
The Environment Agency said it expected river levels in Ironbridge to peak later because of water running downstream from Buildwas.
'Nothing exceptional'
It said businesses in Ironbridge and Bridgnorth "were open as usual" despite the high waters.
Chris Bainger, from the agency, said: "The levels we're seeing are fairly normal winter flooding levels - it's nothing exceptional but it's the length of time that it's been with us which is making a massive difference.
Sydney Avenue and Gravel Hill Lane in Shrewsbury are both closed because of flooding, the agency said.
Shrewsbury Council said car parks in Frankwell were shut and St Julian Friars car park was partially closed.