Shropshire Council jobs: Hundreds opt for voluntary redundancy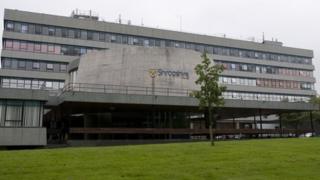 A council looking to shed almost 2,000 staff says it has only received 862 requests for voluntary redundancies.
Shropshire Council announced in July it could have to make about 2,000 staff redundant to save £80m by 2017.
The authority said about 500 workers put their names forward by Friday's deadline for voluntary redundancy. It said it was now likely compulsory redundancies would be necessary.
The council is also planning to sell off its headquarters in Shrewsbury.
In November, officials said they had agreed a business plan to save the £80m from the council's budget, which would include cuts to children's services and elderly care.