Flood warnings for rivers Severn and Vyrnwy in Shropshire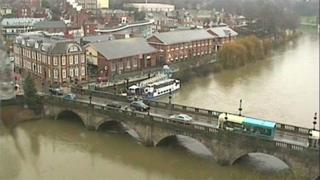 Further flood warnings have been issued by the Environment Agency (EA) for the rivers Severn and Vyrnwy in Shropshire.
Three were in place, now the EA has said the stretch of the Vyrnwy between Melverley and Maesbrook is at risk.
A warning also applies to the Severn at the showground and quarry in Shrewsbury, where the peak is expected to be 4.1m (13ft 5in) at Welsh Bridge.
On Tuesday, barriers were put up at Frankwell in the town to protect against a rise in levels on the Severn.
Chris Bainger from the EA, said the peak could be the highest so far this season, 20 to 30 cm more than before Christmas.
"There is a lot of rain on very sodden ground so it is going straight to the rivers which are responding very quickly," he added.
The EA also warned that properties at Jackfield are expected to flood on Thursday morning, while the river levels at Ironbridge will not peak until Friday, when high levels upstream of Shrewsbury have worked their way down.