'Shrewsbury 24': MPs vote over pickets papers release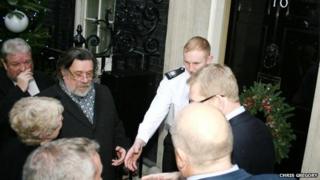 MPs are to vote on whether the government should release papers relating to a builders' strike 40 years ago, which led to pickets being jailed.
Campaigners want to quash convictions against 24 men who were accused of violent picketing and intimidating workers in Shropshire, in 1972.
Six men, including Royle Family actor Ricky Tomlinson, were sent to prison.
Labour MP Dave Anderson has secured a backbench debate on the case, to be held in the Commons on Thursday.
'Miscarriage of justice'
Mr Anderson, who is the MP for Blaydon, said: "Holding these papers is not a issue of national security, the debate is about justice for 24 ordinary lads who were holding a legitimate picket."
The "Shrewsbury 24" were arrested five months after the 1972 building workers' strike and charged under the 1875 Conspiracy Act.
A campaign group wants all documents related to the case to be released, claiming they would prove a "massive miscarriage of justice".
Eileen Turnbull from the group said: "The government says it wants to be transparent so we're relying on this vote for that pledge to come good.
"These cases are 40 years old, we don't know why they feel the need to retain these papers."
A 100,000-signature petition calling for the men's names to be cleared was presented to Downing Street in December.