Donations for Telford family's term-time holiday fine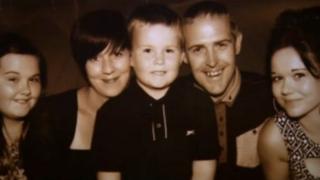 Fundraising campaigns have started for a couple who were fined for taking their children on a week-long holiday during school term time.
The two separate online appeals are organised by people who say they are angry at the treatment of Stewart and Natasha Sutherland, from Shropshire.
Rhidian Jones, whose appeal aims to raise £1,000 to cover the fine and costs, said: "Justice has failed here."
The family have said any money raised should go to charity.
'Touched by support'
Mr Jones said: "I saw it [the story] on the BBC website and I was pretty outraged. It's absolutely ridiculous, a travesty of justice."
He set up a donation page and asked friends to shared the link, raising more than £350 in less than a day. A separate page has been set up by Richard Burman.
"I know it isn't a great amount, but we look forward to getting it over to them as quickly as possible," said Mr Jones.
Mr Sutherland said he was touched by the support and has asked for the money to be donated to a charity called Scotty's Little Soldiers.
The couple, from Trench in Telford, originally refused to pay a £360 fine, which doubled after they failed to pay within 21 days.
In court they admitted failing to ensure their three children attended school, after taking them to Greece for a week at the end of September 2013.
That month new laws came into force to strengthen schools' handling of unauthorised absence - but Mr Sutherland, 39, said he had booked the holiday a year earlier.
On Thursday, the couple were fined £630 and ordered to pay £363 in costs by Telford magistrates.