Uri Geller gorilla is threatened by spoon shortage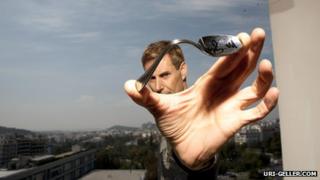 A shortage of spoons is threatening the production of a giant gorilla statue commissioned by entertainer Uri Geller.
The British Ironwork Centre in Oswestry, Shropshire, is making the piece from donated spoons.
The managing director of the company, Clive Knowles, said they need at least 5,000 more on top of the 5,000 already collected.
He added: "The small tongue alone of the gorilla is made from at least 70 spoons."
To help the cause, Geller has given a jacket which used to belong to Michael Jackson to the ironworks, to either raffle to raise money to buy cutlery, or offer as a prize for the largest donation.
Geller plans to put the 12ft (3.6m) primate in his garden in Sonning-on-Thames, Berkshire, where he already has a Cadillac covered in spoons.
'Need thousands'
He said he would collect the statue by flying to Oswestry and taking it home in a cage dangling from his helicopter in the style of King Kong.
Mr Knowles said the centre was considering making its own spoons.
"Thousands of spoons are not readily available," he said at the beginning of his spoon appeal.
"We are making progress on the gorilla, we have received generous amounts of spoons from the visitors to the centre and local schools, but we have come to the realisation that we still need thousands more before May, when the centre will have an open day. "
As well as preparing to make his own spoons, Mr Knowles has contacted the mayor of Sheffield - a city synonymous with cutlery - to ask for help. He has not yet had a reply.
Geller said the piece would be amazing and he planned to use it to inspire ill children invited to his garden.
He chose a gorilla because of his fondness for one he met, which painted several pictures now displayed in Geller's home.
British Ironwork Centre sculptor Alfie Bradley said "We really want to finish the gorilla in plenty of time, but we desperately need more spoons, if you have any old unwanted spoons in your drawers, we will happily take them off your hands."
The problem is, said Mr Knowles, is that people are donating one or two spoons at a time.
"What we really need is carrier bags full.
"When we took on this challenge we didn't know how difficult it would be."