Work starts on Grindley Brook canal refurbishment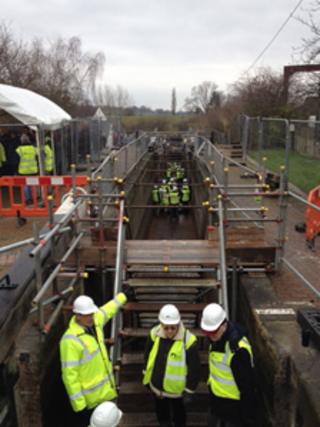 A section of a canal in Shropshire has been drained as work starts on a major refurbishment project.
The Canals and River Trust said the work at Grindley Brook, near Whitchurch, was part of essential repairs carried out every 25 years.
Wendy Capelle, waterway manager, said it was rare to carry out maintenance on such a scale - a flight of three locks.
She said the work would see gates replaced, as well as repairs to brickwork and other parts of the locks.
The scheme at Grindley Brook, on the Llangollen canal, is expected to be completed by the end of January.
People were invited to walk along the bottom of the canal on Sunday as part of an open day to show the work being carried out.