Shropshire churches awarded £20k repair grants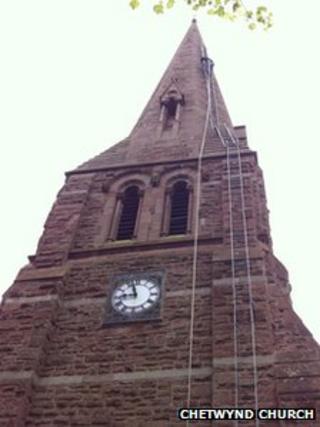 More than £20,000 has been awarded to two churches in Shropshire to complete urgent repairs.
The grants, from the National Churches Trust, form part of a £645,000 rescue package for some of the UK's most historic churches.
Last year, The Grade II listed St Michael and All Angels Church in Chetwynd reported its Spire was crumbling and it faced a £150,000 bill.
The latest grant will be used to complete the most urgent repairs.
It is expected to see work on the spire, tower and roof of the Victorian building.
St Michael's Church in Munslow has also received £10,000 to repair the roof of the tower and chancel, as well as improve drainage.
The Grade I listed building, dating back to the 12th Century has also suffered structural movement as well as damage to masonry.
Huw Edwards, broadcaster and vice-president of the National Churches Trust, said the national funding package was "an investment in the future of the UK's places of worship" and helped to protect "over 1,000 years of history".