Shropshire flooding: Man is rescued from car roof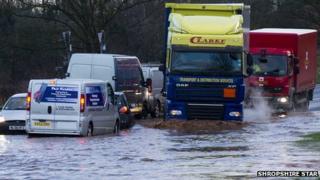 A man has been rescued from the roof of his car after getting stuck in flood water in Shropshire.
Shropshire Fire and Rescue said it had been called to the A454, east of Bridgnorth, at around 01:05 GMT.
Crews, including a rescue boat, were sent to help the man.
Dave Jennings, watch manager, said the water had been about 2 ft (0.6m) high and was fast-flowing. He said the man, in his 60s, was from the Bridgnorth area.
"He was driving towards Bridgnorth when his car, a small hatchback, was surrounded by flood water," he said.
"He climbed on to the roof while other motorists called the emergency services.
"When we got to him, the water was still rising. Some of our responders, wearing wet suits, were able to rescue him."
The man was checked by paramedics but was not taken to hospital.
Mr Jennings warned motorists to avoid driving in flood water, unless their cars were equipped to do so, and urged people to remain in their vehicles if they became stranded.
Shropshire Council said the road was currently closed. It added two footpaths in Bridgnorth were also shut due to rising water levels.
Elsewhere in the county, flood barriers remain up in Shrewsbury and the Riverside car park and a section of Frankwell car park are closed.