'Restaurant' at gas explosion site in Shrewsbury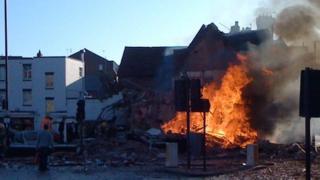 A restaurant could be built at the site of a gas explosion which destroyed a house and injured 11 people in Shrewsbury, an architect has said.
The house in Hills Lane was demolished and screened off following the explosion four years ago.
Shrewsbury firm Base Architects has been hired by the pension fund which owns the site to develop it.
Firm spokesman Carl Huntley said plans had been drawn up to build a three-storey commercial property.
He said the project had stalled, partly because of the economic downturn.
A shortfall of more than £300,000 needs to be overcome for the scheme to go ahead, Mr Huntley said, but he said he was hopeful something could happen in 2014 if the economy continued to improve.
"The main function I can see is a restaurant being there," said Mr Huntley.
"This is a gateway site into the town. The quality of the architecture needs to be top end. Lets not rush it. Lets get it spot on."