Fallen trees close Shropshire roads as strong winds hit county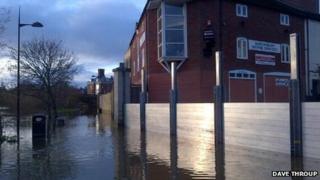 Floods and high winds have brought down trees and closed roads across Shropshire.
The A41 in Whitchurch was closed near Tilstock Road after a tree came down close to the roundabout.
A tree also blocked the A528 at Preston Gubbals, closing one lane, while the A51 was also closed in Market Drayton.
Flood defences remain up in Shrewsbury, although Environment Agency staff are expected to look again at levels on Saturday morning.
Flood warnings for the centre of the town have been downgraded.
Chris Bainger from the agency, said rainfall overnight on Thursday had not been as bad as predicted.
In Jackfield, a road remained closed after a hole more than four feet deep (1.3m) opened up, while around Newport and Much Wenlock, police reported trees had come down.
Shropshire Council said it was aware of 16 trees brought down in the area on Thursday night or Friday morning, including Berwick Road and near the Column in Shrewsbury.
A telegraph pole and a tree were also blown down in Lea Cross.