Georgia Williams murder: Vicar condemns online porn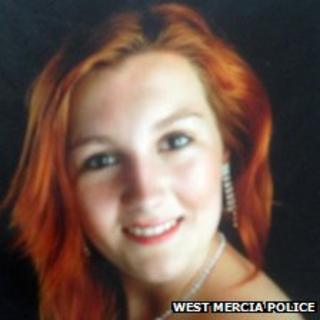 A vicar from the Shropshire town where murdered 17-year-old Georgia Williams lived has called on the government to do more to tackle online pornography.
The Rev Mark Ireland, of All Saints, Wellington, said the availability of such images was "a tragedy".
On Thursday, Jamie Reynolds, 23, was sentenced to life in prison for Georgia's murder.
At the time of his arrest, Reynolds had 16,800 images and 72 videos of extreme pornography on his computer.
'Internet in bedrooms'
Mr Ireland said the whole community had been affected by Georgia's death.
He said he wanted the government to "take more responsibility" after police said extreme pornography had played a part in her murder.
"It's a tragedy we live in a world where this kind of stuff is freely available on the internet," he said.
"That has huge implications when children and young people - even primary school children - have access to the internet on their phones or in their bedrooms.
"All of us are deeply aware of these issues and we need to challenge the government and internet agencies to take far more responsibilities.
"There is far more that could be done to make this stuff not available."
He also called on society to take a stand against soft porn and violence in magazines, films and on television.
'Frightening violence'
"What we fill our minds with ultimately affects our behaviour," he said.
"That was true for the offender in this case very graphically.
"All pornography degrades the people involved and degrades women, and we live in a society where there is a frightening level of violence against women.
"We need to challenge those who make programmes for broadcast about the levels of violence and pornography."
In November, Prime Minister David Cameron said he welcomed the introduction of family-friendly internet filters to help parents protect their children from seeing pornographic images on the internet.
Mr Cameron said he was also working with Google and Microsoft to stop child abuse content being available "not only in the UK but across the world".