Georgia Williams Trust experiences 'overwhelming response'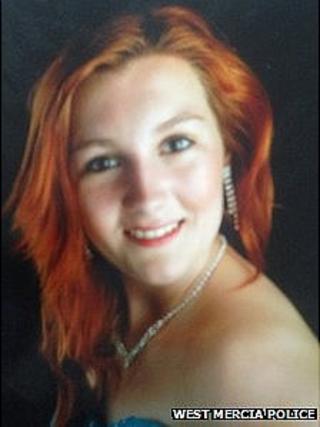 A charity set up in memory of murdered teenager Georgia Williams will start considering applications for grants in January after announcing it has raised more than £30,000.
Georgia, 17, was hanged in May by Jamie Reynolds in Wellington, Shropshire, in an attack described as "scripted, sadistic and sexually-motivated".
Reynolds, 23, was given a whole-life sentence on Thursday.
The Georgia Williams Trust said it had experienced an overwhelming response.
Richard Langton, chairman of the charity - which states its goal as being "to enable young people to participate in life-building activities and contribute to the local community" - said what happened had "touched the hearts" of the public.
He said: "Even with the shocking news yesterday it's been really warming for us to see the interest that has come to the charity, people have seen the news stories and searched for the charity on the internet."
'Tough six months'
He said he hoped Georgia's family could take "some small comfort in the fact that justice has been done" and look to the "positive legacy" of the charity.
Georgia's body was discovered off the Nant-y-Garth pass, near Wrexham, on 31 May.
Reynolds, who admitted murder, was described as a potential serial killer at his sentencing hearing.
The Georgia Williams Trust was set up in June and given charitable status in August.
Mr Langton, who is a police inspector, added: "We have seen an overwhelming support... it has been incredible, it's been a tough six months."
He said many police officers had been fundraising. Georgia's father, Steve, a detective with West Mercia Police, is also a charity trustee as is Georgia's sister, Scarlett.
Mr Williams spoke after Reynolds's sentencing of the loss of his younger daughter, who spent four years with the air cadet squadron.
He said she "inspired and encouraged all who met her".
Mr Williams said: "The world lost a truly wonderful person."