Droitwich firm fined over school canopy collapse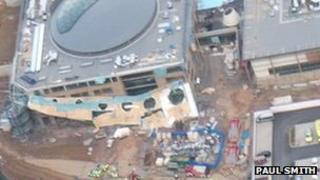 A construction firm has been ordered to pay £206,000 after roofers suffered "serious" injuries when a secondary school canopy collapsed.
Five workers suffered broken bones and cuts when they fell 40ft (13m) at Telford's Abraham Darby school in 2011.
The Health and Safety Executive prosecuted Adstone Construction after finding "failings" in the Droitwich firm's canopy steelwork.
They received a £100,000 fine at Shrewsbury Crown Court.
'Potential life loss'
The firm was also ordered to pay £106,098 costs after pleading guilty to Section 3 (1) of the Health and Safety at Work Act.
Health and Safety Executive inspector Andrew Bowker said the court heard how pieces of the canopy steelwork were "insufficiently welded together".
Speaking after the court hearing, Mr Bowker said the collapse had "enormous potential" for loss of life.
Other construction workers had been "directly under" the canopy installing windows all day, Mr Bowker said.
He said Adstone Construction had failed to ensure "critical welds" on steelwork around the canopy were completed to required standards.
"It is vital companies have sufficient quality control measures in place to ensure this does not happen," he said.