Telford woman Lesley Woodbridge set to make Somme 'first'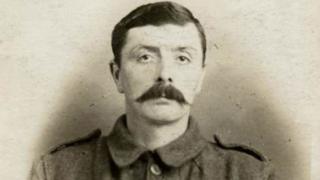 A woman hopes to make history by visiting the exact location of a relative's final resting place under the Somme.
Soldier William Arthur Lloyd died in 1915, killed by an enemy explosion while tunnelling under no man's land during World War One.
Lesley Woodbridge, from Telford, has spent the last seven years trying to track her great-grandfather down.
On Sunday, she will hold a brief service close to where he lies.
She will descend 80ft (24m) at La Boisselle, part of the site of the Somme battlefield, and follow tunnels built a century ago.
Historian Peter Barton said: "This must be the first time anyone has ever visited the grave of somebody who's for almost 100 years been noted as 'missing'.
"You can't do that for men on the surface who are lost in battle, because you simply don't know where they are."
History group
Mr Lloyd, a miner from New Broughton, near Wrexham, was one of a group of soldiers who tunnelled under the battlefield to try to destroy German trenches and halt enemy tunnelling operations.
His family, however, knew almost nothing about his death or where he was buried.
Help from the La Boisselle Study Group allowed Ms Woodbridge to discover the exact circumstances of his death.
The history group has been excavating that part of the site since 2011 and more recently opened up the shaft near where Mr Lloyd died.
Ms Woodbridge said she was excited about the prospect of standing feet from her great grandfather.
"I sort of hoped at some stage I would be able to stand over where he was. But I never thought I would be able to make that last trip he made. It's just amazing."