Direct Shrewsbury-to-London train services to restart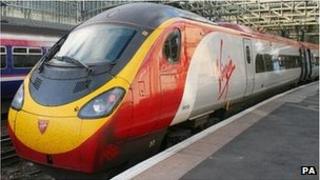 Direct rail services between Shropshire and London are to be restarted from May, the rail regulator has said.
Virgin Trains submitted a renewed bid to run the twice-daily service last week after previously having plans rejected by Network Rail.
The Office of Rail Regulation (ORR) said the two sides had agreed to run an off-peak service Monday to Friday, with one direct train timetabled for Sunday.
It said exact times would be revealed on new timetables issued on Friday.
Plans for the service had twice been rejected, after Network Rail said the line could not cope with extra traffic.
The ORR said it had not yet seen analysis of how the direct Shrewsbury to London trains would "impact on performance" on the line but it was continuing to look at how more services could be provided.
Shropshire has been without a direct rail link to London since 2011, when the Wrexham and Shropshire service ended.