Danny Jones sword killing: Oswestry man Richard Reece jailed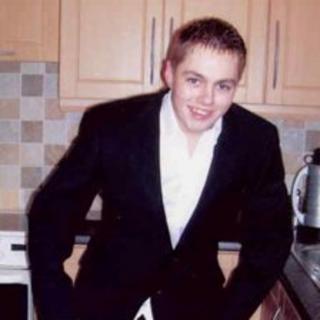 A man has been jailed for killing his friend with an ornamental sword during a fight in a car park.
Danny Jones, 21, from Chirk, near Wrexham, died from a single stab wound after he and Richard Reece spent a night out in Oswestry, Shropshire.
Reece, 19, from Lord Street in Oswestry, was acquitted of murder but found guilty of manslaughter over the stabbing, which happened in April.
He was sentenced to 12 years in prison at Birmingham Crown Court.
The jury heard the two men knew each other well and had spent the night drinking together.
They ended up in Oak Street car park and the court was told Mr Jones, a trainee accountant, was stabbed with a 30cm blade - described as an ornamental sword.
Martin Lindop, from the West Midlands Crown Prosecution Service, said the weapon was a replica short sword from the Lord of the Rings films.
Mr Jones died in hospital, while undergoing emergency surgery.
In a statement read out in court, Mr Jones's mother described him as a "special boy", who she had brought up on her own until he was 13.
She said he had a baby son who would now "never know him".
Det Insp Steve Tonks said his first thoughts were with Mr Jones's family after what he described as "another sad and pointless death".
"They have endured a trial lasting more than a fortnight, listening to the huge amount of detailed evidence surrounding Danny's death," he said.
'Extremely tragic'
"This incident demonstrates, yet again, that the carrying of knives or other bladed weapons runs a huge risk of ending in tragic consequences."
Mr Lindop described it as an "extremely tragic case".
"What should have been a pleasant evening with a few friends enjoying some drinks has ended with a young man being stabbed to death and losing his life," he said.
"Danny Jones had been drinking at the defendant's address in Oswestry.
"They began arguing which escalated into the two of them fighting.
"As the victim got the better of Reece, the defendant ran back home, only to emerge a few seconds later carrying a replica short sword.
"There was a further confrontation during which Mr Jones sustained a single stab wound that proved to be fatal."