Telford 'box road' work starts in £11.8m revamp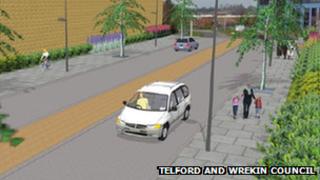 Work has started on an £11.8m redevelopment of the main road around Telford town centre.
Part of a £450m revamp in Telford, it will see alterations to the layout of the "box road".
The plans include turning the road into a two-way system and a central reservation built, as well as new footpaths, traffic lights and lighting.
The construction work is being done in three phases and is expected to be completed by spring 2015.
It has been mainly funded through a £7.8m grant from the Department for Transport.
The first phase of work, which will see Malinslee roundabout redeveloped, is due to be finished by February in time for the opening of the new £250m Southwater development nearby.
Keith Harris, head of transport at Telford and Wrekin Council, said the project would allow the expansion of the town centre and also improve access to the existing shopping centre, which itself is due to undergo a £200m revamp.
He said no complete road closures were planned, although there would be some disruption and urged drivers to plan ahead.