Trailer damages building and car near Oswestry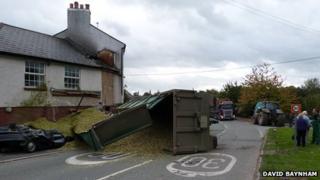 A pub building was damaged and a car crushed when a loaded trailer came off a tractor in Shropshire.
The building on the side of the pub, where The Queen's Head owner's son lives, was struck at about 14:45 BST when the trailer overturned.
The owner of the pub in Queen's Head near Oswestry, David Baynham, 44, said the wrecked car belonged to his son, 21-year-old Daniel.
Mr Baynham added the commercial kitchen area was evacuated.
He said: "I was in the kitchen cooking - where the damage was done, I was just the other side of the wall.
"The whole building was shaking for about 20 or 30 seconds.
"I was waiting for the roof to come down."
He said part of the building which housed ducting was demolished when the trailer overturned, but he was "OK" with insurance.
The pub is still open to customers.