Shropshire Council headquarters could close in 2014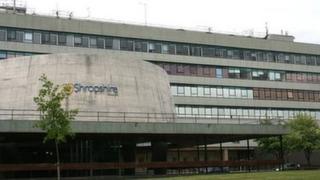 Shropshire Council's headquarters could be closed by the end of next year, the local authority has said.
Last month, council leader Keith Barrow said he would like to see the building sold off, in a bid to cut costs.
The authority owns other buildings in Shrewsbury that are expected to be used by staff, including the Guildhall.
Shire Hall costs more than £2.5m a year to run and Mr Barrow said it was likely to go on the market for between £4m to £7m.
He said: "We need to save £80m over the next three years.
"No offers have been received for Shirehall, but there have been one or two expressions of interest and I anticipate that there may be one or two more in the months ahead.
"Staff who are based at Shirehall will be able to work from other council buildings in Shrewsbury and around the county, or will be able to work from home where appropriate."
The council is investigating the possibility of using the Walker Theatre, next to the Guildhall, for council meetings.
The new museum and art gallery, due to open by the end of this year following a £10.5m revamp of the former Music Hall, could be used for extra office space, the local authority said.
Mr Barrow said: "We're hoping that staff will start to move out from next April, and that the building will be empty by Christmas 2014. "