'Plebgate': West Mercia chief constable 'considered quitting'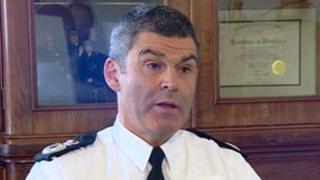 One of three chief constables involved in the "plebgate" affair says he considered resigning.
The chief constables of West Mercia, Warwickshire and the West Midlands faced MPs on Wednesday over their roles.
No action had been taken against three police officers following comments made after a meeting with former chief whip Andrew Mitchell in October 2012.
West Mercia Chief Constable David Shaw told the BBC it had been "quite tough".
But he added: "The public tend to judge the men and women I lead, and hopefully me, on how we look after them, day in day out, and that's what really counts here."
No action was taken against the police officers - Sgt Chris Jones, from West Midlands Police, Insp Ken MacKaill, of West Mercia Police, and Det Sgt Stuart Hinton, of Warwickshire Police - following an internal review by the forces concerned into their conduct.
The officers told MPs they stood by their "accurate" account of a meeting with Mr Mitchell in October 2012 and said they do not owe an apology to him.
'Clumsy' handling
The meeting took place weeks after an altercation at the gates of Downing Street where the Tory MP was accused of swearing at police and calling them "plebs" - allegations he has always denied.
Mr Mitchell, who resigned over the row, has challenged the claim by the three officers that he was not open about the incident.
But Sgt Jones has said he was "not convinced we have done anything wrong".
Ch Insp Jerry Reakes-Williams, head of professional standards at Warwickshire and West Mercia Police, who led an inquiry into the October 2012 meeting, has said he believed the officers should face misconduct charges.
West Mercia Police had concluded that there was no case to answer for misconduct or gross misconduct, a decision which the Independent Police Complaints Commission (IPCC) said it disagreed with.
The head of West Mercia Police told the Commons Home Affairs Committee the handling of the affair had been "clumsy".
On Thursday Mr Shaw told the BBC the force had "taken a hit on confidence" and added it had been "intensely frustrating" that many media channels had made "pretty direct suggestions that I've covered something up".
He said: "It's quite tough when your kids phone you up because they've read while they're away at uni that the papers are calling for my resignation.
"I have to concede there have been times when I've thought about my position, but far, far more important is that I carry on leading this fantastic force."
In a briefing after the meeting, the three officers - all members of the Police Federation - told journalists Mr Mitchell had refused to elaborate on what he did or did not say during the original incident.
Mr Mitchell insists a transcript of the meeting, which he secretly recorded, shows that he apologised for swearing and expressly denied that he had used the word "pleb".