Ludlow MP Philip Dunne: Rural areas 'miss out' on ambulance funding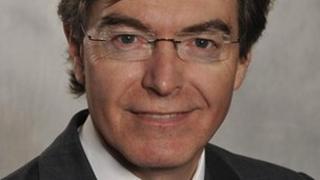 A Shropshire MP has called for more money to help improve ambulance coverage in rural areas.
It comes after West Midlands Ambulance Service (WMAS) said it was struggling to cover the county, in part because of its rural nature.
The service said more funding was needed for extra vehicles and crew.
Philip Dunne called for a rethink on the allocation of NHS funding. NHS England said a review was under way and it was looking at rural areas.
The Conservative MP for Ludlow said that while extra resources locally had been used to fund paramedics and community first responders, national bodies needed "to look at the provision in rural areas".
'Fairer funding'
He said: "It doesn't just apply to ambulances, it applies across the piece, that as a result of formulas set well over 10 years ago - and haven't in most cases been adjusted since - rural areas don't get a fair crack of the funding.
"We need to press for fairer funding to rural areas as we are doing across many other areas of public service - education, fire service, police service.
"All of those public services have tended to concentrate funding in areas of greater population."
Shropshire Clinical Commissioning Group, which allocates funding to NHS services within the county, said it was "raising awareness of the challenges" of providing services to rural areas on its current budget "at a national level".
In a statement, NHS England said it was "vital that we allocate funding in a way that ensures equal access for equal need across the country and addresses health inequalities".
It said it was already reviewing funding. "As part of this, we are looking at the impact of health costs in rural areas.
"We also need to consider the funding that CCGs get alongside other local health and social care funding including funding for primary care (such as GP services), specialised services and social care, so that together funding is right for each local area."
Delay 'unacceptable'
Mr Dunne's comments came after an elderly Shrewsbury patient was left waiting for an ambulance for more than an hour on Sunday.
WMAS apologised and described the situation as "unacceptable". It said at the time all ambulances were already on 999 calls.
It warned that such incidents "could be repeated until the resourcing situation is remedied" and called for at least two extra ambulances in the county.
Within Shropshire, WMAS is just missing NHS targets which state that 75% of the most serious cases should be attended within eight minutes.
Since April, WMAS has been reaching 73.8% of those calls within that time, although that drops to 70% when the mainly urban area of Telford is excluded.