Plane crash-lands near Halfpenny Green after fuel shortage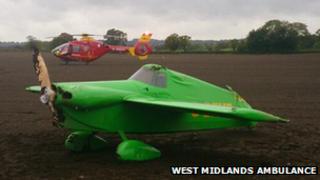 A plane made an emergency landing in a field after running out of fuel.
The light aircraft was brought down near Halfpenny Green, on the border of Staffordshire and Shropshire, hitting the ground nose first before flipping over.
One man, in his 60s, escaped uninjured from the crash, at about 12:10 BST.
Firefighter Mark Weaver said the pilot took the decision to bring the plane down to avoid hitting houses in the nearby village of Bobbington.
'Heavy landing'
He said it eventually landed about 400ft (120m) from the nearest house.
Staff at nearby Halfpenny Green Airport were able to free the occupant of the plane before fire crews arrived.
A Staffordshire Fire Service spokesman said they responded to a light aircraft that had crashed on the approach to the runway.
He said: "When we arrived we found it to be in the field. There had been a heavy landing but the pilot was up and walking about when we left the scene.
"He was left with the police and breathalysed."