Richie Woodhall calls for more Shrewsbury boxing clubs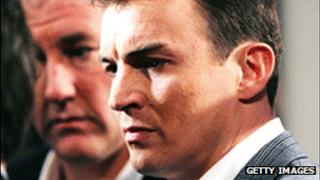 Former world middleweight boxing champion Richie Woodhall says the closure of his old training club has left "a huge hole" in the town.
Shrewsbury Amateur Boxing Club has closed after 53 years, after bosses announced that they could not afford a council rent hike.
Mr Woodhall said he fears the closure could "force" fighters out of town.
Shropshire Council said it was the first time rent had been reviewed at the club for 12 years.
However, Mr Woodhall said steps should be taken to open new clubs not close them.
'Encourage boxers'
He said: "Lots more needs to be done if the town is to produce future boxing champions."
Other boxers, who made their way through the club to professional level, include Shane Enright, Jimmy Price and Lenny Evans.
Mr Woodhall, 45, said: "It is very sad news to hear about the club's closure; it was my last amateur club and was very much needed in the town.
"A town like Shrewsbury has a lot of amateur boxers, and not as many places for them to train now.
"If the town is to produce more champion boxers, it needs to invest in facilities, not close them."
Colin Bough, who runs Shrewsbury and Severnside Amateur Boxing Club, agreed, adding: "Young boxers need to be encouraged.
"I would certainly welcome more clubs in the town if people have the time and commitment to run them."